Note: This is a project under development. The articles on this wiki are just being initiated and broadly incomplete. You can Help creating new pages.
Withania somnifera - Ashwagandha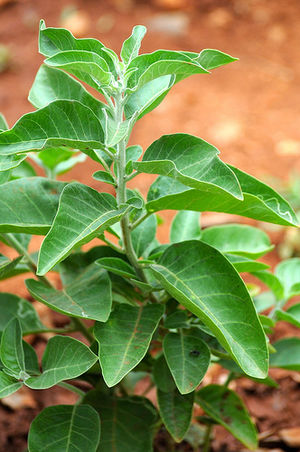 Withania somnifera is a herb which is being used in ayurvedic medicines since our ancient times. It plays a major role in the regulation of vata dosha which is one of the fundamental bioelement.
Uses
Weight loss, Rheumatism, Joint pain, Sexual debility, Thyroid, Inflammation, Pimples, Diarrhea, Sore throats, Increases strength, Rejuvinative, Insomnia, Weakness, Aphrodisiac.
Parts Used
Chemical Composition
The ashwagandha consists of alkaloids and steroidal lactones. Withanine is the main alkaloid, where as somniferine, somnine, somniferinine, withananine, pseudo-withanine, tropine, pseudo tropine, choline, cuscohygrine, isopelletierine, anaferine, anahydrine[1]
Common names
Properties
Reference: Dravya - Substance, Rasa - Taste, Guna - Qualities, Veerya - Potency, Vipaka - Post-digesion effect, Karma - Pharmacological activity, Prabhava - Therepeutics.
Dravya
Rasa
Tikta (Bitter), Kashaya (Astringent)
Guna
Laghu (Light), Ruksha (Dry), Tikshna (Sharp)
Veerya
Ushna (Hot)
Vipaka
Katu (Pungent)
Karma
Kapha, Vata
Prabhava
Habit
Identification
Leaf
| Kind | Shape | Feature |
| --- | --- | --- |
| Simple | | The leaves are alternate, simple, margins entire to slightly wavy, broadly ovate, obovate or oblong, 30-80 mm long and 20-50 mm broad |
Flower
| Type | Size | Color and composition | Stamen | More information |
| --- | --- | --- | --- | --- |
| Bisexual | 2-5 mm long | Yellow | 5 | The 1-7 inconspicuous bisexual flowers appear at the leaf nodes on 2-5 mm long stalks, Flowering season is July-September |
Fruit
| Type | Size | Mass | Appearance | Seeds | More information |
| --- | --- | --- | --- | --- | --- |
| Oblong | 5-8 mm | The fruit is a hairless spherical berry | Orange-red to red when ripe and enclosed by the enlarged calyx | - | Fruiting season is July-September |
Other features
List of Ayurvedic medicine in which the herb is used
Where to get the saplings
Mode of Propagation
How to plant/cultivate
A fairly easily grown plant, it requires a warm sheltered position in full sun and a well-drained moderately fertile soil[5]
Commonly seen growing in areas
Photo Gallery
References
External Links