Note: This is a project under development. The articles on this wiki are just being initiated and broadly incomplete. You can Help creating new pages.
Fidalgo Hair Care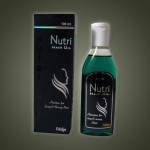 Nutri Hair Oil :- Nutri Hari Oil helps to Nourishes hair roots, Reduces problems like hair fall , dandruff and split hair, Moisturize the scalp and hair and Prevents dryness and hair damage.
Soft and Black Hair Oil:- It helps to Provides nourishment to hair roots, Arrests falling of hair and Checks alopecia and dandruff.
Nutri Hair Capsules:- It is used as a hair tonic, herbal treatment of hairs falling.
Soft & Black Hair Capsules
External Links