Note: This is a project under development. The articles on this wiki are just being initiated and broadly incomplete. You can Help creating new pages.
Elegance Oil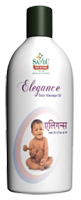 Massage in neonates and infants with medicated oil practiced since ages in the Indian subcontinent, holds true even in modern times. Keeping this view in mind, Elegance is a specially formulated medicated massage oil
It has anti-septic, antibacterial, anti-inflammatory, complexion promoting, cooling and soothing action.
Indication
Baby massage oil
Ingredients
Til oil processed with Curcuma longa, Vitex negundo, Kadupadwal, Trichosanthes dioica, Azadirachta indica, Psoralia corylifolia, Cida cordifolia, Withania somnifera, Berberis aristata, Glycirrhiza glabra, Santalum album, Rubia cordifolia).