Note: This is a project under development. The articles on this wiki are just being initiated and broadly incomplete. You can Help creating new pages.
Dhanwanthari Thailam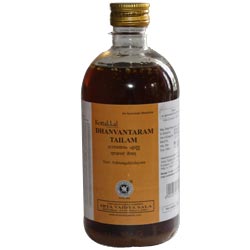 Dhanvantariharam Thailam is an Ayurvedic oil. It is used in the treatment of Vata diseases such as Rheumatoid and osteo arthritis, spondylosis, headache and neuro-muscular conditions. This oil is based on Kerala Ayurveda practice.
Dhanwantharam Tailam uses:
It is used to treat rheumatoid arthritis, osteo-arthritis, neck pain and back ache due to spondylosis,
It is useful in treatment of neurological conditions such as Neuritis, Neuralgia, paralysis, facial palsy, etc.
How to use Dhanwantharam oil?
It is used for massage.
It is used in Ayurvedic treatment like Dhara, Basti treatment etc.
101 times processed oil, called Dhanwantharam 101 -is used for oral administration.
Dose for oral intake is – 5 – 20 drops once or twice a day, before food, with warm water or warm milk, as directed by Ayurvedic doctor.
This oil is used for massage for ladies, after delivery, to improve body strength.
It is also used as massage oil for babies.
Internal use is advised to relieve fever, bloating and urinary diseases.