Note: This is a project under development. The articles on this wiki are just being initiated and broadly incomplete. You can Help creating new pages.
Chandanasavam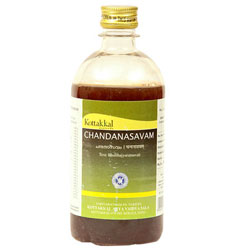 Chandanasava is used in the treatment of spermatorrhoea. It is also used to improve strength. It is a natural cardiac tonic. It also improves digestion power.
Dosage of Kottakkal Ayurveda Chandanasavam
12 – 24 ml usually after food, or as directed by Ayurvedic doctor. It can be mixed with equal quantity of water, if the taste is not tolerated by the patient.
Ingredients of Kottakkal Ayurveda Chandanasavam
Sandal Wood – Santalum album – heart wood – 48 g
Balaka – Hribera – Pavonia odorata – root – 48 g
Musta – Cyperus rotundus – rizhome – 48 g
Gambhari – Gmelina arborea – stem bark and root – 48 g
Nilotpala – Utpala – Nymphea stellata – flower – 48 g
Priyangu – callicarpa macrophylla – Flower – 48 g
Padmaka – Prunus poddum – stem – 48 g
Lodhra – symplocos racemosa – stem bark – 48 g
Manjishta – Rubia cordifolia – Root – 48 g
Raktachandana – Pterocarpus marsupium – Heart wood – 48 g
Patha – Cyclea peltata – root / whole plant – 48 g
Kiratatikta – Swertia chiraita – whole plant – 48 g
Nyagrodha – Ficus benghalensis – stem bark – 48 g
Pipali – Long pepper – Fruit – 48 g
Madhuka – Madhuka longifolia – Flower – 48 g
Rasna – Pluchea lanceolata – Root / whole plant – 48 g
Patola – pointed gourd leaf 48 g
Kanchanara – Bauhinia variegata – stem bark – 48 g
Amratvak – Bark of mango – 48 g
Mocharasa – Shalmali – Bombax malabaricum – Exudate – 48 g
Dhataki – Woodfordia fruticosa – Flower – 768 g
Draksha – Dry grapes – 960 g
Sharkara – sugar candy – 4.8 kg
Jaggery – 2.4 kg
Water – 24.576 liters