Note: This is a project under development. The articles on this wiki are just being initiated and broadly incomplete. You can Help creating new pages.
Cephagraine Nasal Drops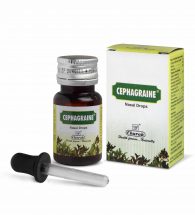 In sinusitis, CEPHAGRAINE nasal drops reduce inflammation, liquefy mucus and relieve congestion. CEPHAGRAINE reduces frequency, severity and duration of migraine by its anti-inflammatory and analgesic property. Shunthi (Zingiber officinale) and Erand (Ricinus communis) have analgesic properties and help to relieve the symptoms of migraine.Yashtimadhu (Glycyrrhiza glabra) has adaptogenic and anxiolytic properties. Karpoor (Camphora officinarum) and Limbu swaras (Citrus limon) relieve nasal congestion and reduce the heaviness in the head.