Note: This is a project under development. The articles on this wiki are just being initiated and broadly incomplete. You can Help creating new pages.
Capsules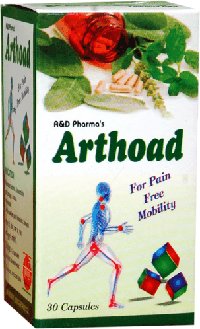 Arthod - Ideal for arthritis, gout, muscular pain, joint pain, back ache, sprains & cramps.
Diabiad - It is a combination of unique herbs which controls the blood sugar level. It also takes care of the associated symptoms like polyuria, polydipsia & polyphagia.it help in reducing diabities & its complication like debility & depression.
Gynaead - Menstrual disorders, leucorrhoea, menorrhagia, metrorrhagia and irregular menstrual cycle. Astringent, Antihaemorrhagic, Antihelminthic, Antinflammatory, Antiseptic, Blood purifier, Anti toxin, Stimulant, tonic used in infertility & uterine affection.
Heamad - For General debility, anemia & loss of apatite, builds natural resistance against recurrent infections. Regulates all metabolic activities, supplementary nutrition in pregnancy & lactation , inhibits and reduce free radical damages improves psychological function.
Dermad - Blood Purifier cures Skin Diseases like Pruritus, Dermatitis, Psoriasis, urticaria & summer boils. Good For Acne, Pimples, Black heads blemishes & other facial ailments of the Skin.
Stressless Capsules - This capsules helps to relieve tension.
Extra boost for men and women - The Capsule extract is a combination of herbal medicines, Aphrodisiac and vitalizers (Indian Herbal Viagra) It is given to males who suffers from sexual debility, pre mature ejaculation, functional impotency, spermatorrhoea, sexual weakness and inability to perform sexual act. It is also useful for females in frigidity.
Renaad - It is uses for renal calculi, urinary track infection, Glomerulus nephritis, dysuria & pyuria, Burning micturation, Astringetent and diuretic, alkaliser.
External Links