Note: This is a project under development. The articles on this wiki are just being initiated and broadly incomplete. You can Help creating new pages.
Berbenteron Pediatric Suspension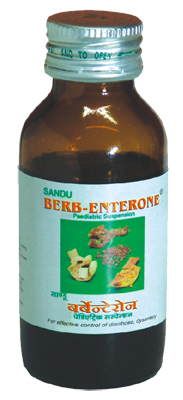 Prompt relief in children's diarrhoea
It is a combination of 9 essential herbs which provides prompt relief in diarrhoea and dysentery. It offers antibacterial, antiprotozoal and amoebic action. It also provides stomachic, antispasmodic and carminative action.
Indications
Diarrhoea, Dysentery, Flatulence, teething Problem, abdominal colic and worm infestation .
Dose
Infants: 20 drops 3-4 times Children below 5 years: ½ tsf 3-4 times Children above 5 years: 1 tsf 3-4 times
Ingredients
Daruharidra (Berberis aristata)
Girimallika (Holarrhena antidysenterica)
Aconitum hetrophyllum,
Cyperus rotundus,
Embelia ribes,
Punica granatum
Myristica fragrance,
Syzygium aromaticum,
Punica
granatum
Quercus infectorius