Note: This is a project under development. The articles on this wiki are just being initiated and broadly incomplete. You can Help creating new pages.
Balapunarnavadi Kashayam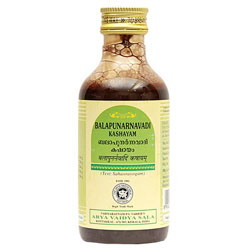 It is used to treat anorexia. It improves digestion and relieves bloating.
5 to 15 ml mixed with three times of boiled and cooled water or as directed by the physician.
Ingredients of Balapunarnavadi Kashayam
Bala
Eranda
Brihati
Nidigdhika
Gokshura