Note: This is a project under development. The articles on this wiki are just being initiated and broadly incomplete. You can Help creating new pages.
Vaccinium - Karamarda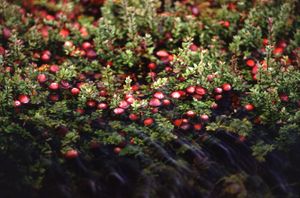 Cranberries are a group of evergreen dwarf shrubs or trailing vines in the subgenus Oxycoccus of the genus Vaccinium.
Uses
Parts Used
Chemical Composition
It contains chrysoeriol, scopoletin, trans-p-hydroxycinnamic acid, trans-p-hydroxycinnamic acid ethyl ester, cafeic acid ethyl ester, beta-sitosterol, iuteolin, quercetin, esculetin , cafeic acid, isolariciresinol-9-O-beta-D-xyloside, 10-O-trans-p-coumaroylsandoside[1]
Common names
Properties
Reference: Dravya - Substance, Rasa - Taste, Guna - Qualities, Veerya - Potency, Vipaka - Post-digesion effect, Karma - Pharmacological activity, Prabhava - Therepeutics.
Dravya
Rasa
Tikta (Bitter), Kashaya (Astringent)
Guna
Laghu (Light), Ruksha (Dry), Tikshna (Sharp)
Veerya
Ushna (Hot)
Vipaka
Katu (Pungent)
Karma
Kapha, Vata
Prabhava
Habit
Identification
Leaf
| Kind | Shape | Feature |
| --- | --- | --- |
| Simple | | The leaves are ovate, in an irregular oval or slightly egg shape that is wider at the bottom than the top |
Flower
| Type | Size | Color and composition | Stamen | More information |
| --- | --- | --- | --- | --- |
| Unisexual | 0.33" long | White to very light pink | 5-20 | Blooms are typically numerous and somewhat showy and Bloom time is May |
Fruit
| Type | Size | Mass | Appearance | Seeds | More information |
| --- | --- | --- | --- | --- | --- |
| Blue-black berry | 0.25" to 0.5" diameter | Eaten readily by wildlife and humans | Ripen July through August | 1 | {{{6}}} |
Other features
List of Ayurvedic medicine in which the herb is used
Where to get the saplings
Mode of Propagation
How to plant/cultivate
Landscape Uses: Border, Massing, Seashore. Requires a moist but freely-draining lime free soil, preferring one that is rich in peat or a light loamy soil with added leaf-mould[3]
Commonly seen growing in areas
Photo Gallery
References
External Links