Note: This is a project under development. The articles on this wiki are just being initiated and broadly incomplete. You can Help creating new pages.
Essential Oils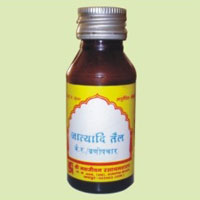 1. Jatyadi Oil:- Jatyadi Oil is highly effective in treating most of the health problems which are as follows:-
Healing wounds
Ulcers
Skin diseases
Burns
Haemorrhoids
Eczema
Psoriasis
2. Mahabhringraj Oil:- Mahabhringraj Oil is a herbal oil used in Ayurvedic treatment for hair fall, headache, neck pain and stiffness, eye and ear diseases.
3. Shadbindu Oil:- Shadbindu Oil is an Ayurvedic herbal oil used in Nasya treatment.It is also used for other problems also which are as follows:-
Sinusitis
Headache
Catarrh
Snoring
Cough
Other diseases of nose
External Links